Cocktails for Helen.
I have vivid memories of my mom and dad going to neighbors' houses for cocktails and dinner, sometimes cards.
Of course, this was the 50's and everyone still "dressed up". I remember so vividly a butter yellow polished cotton dressed that had beautiful orange, lemon & lime citrus slices, cinched waist…My dad often wore a tie then, even though he was a contractor and did not dress that way for work. Funny how some things stick in your mind.
"Things that fit on toothpicks" is the way some one recently described the food at cocktail and card parties of that era. Friday Night Cocktail Dinners in the neighborhood were always buffets, or toothpick based hors d'oeuvres. Sunday's get-to-gether was with all the kids, and were mainly BBQs, potlucks and cocktails.  See the picture of my dad below with the hat—that was an Island night celebration. Yep…they had themes!
There were always the cocktails. Someone always played bartender, and mixed the favorites of the day: Manhattans. Old Fashions. Gimlets. Tom Collins. Screw Drivers. My folks went to Mexico early in the 50's and brought back the Margarita to their neighborhood.
Mom loved them all. As long as they were on the sweet side! You see, she didn't really "drink", but she sure loved to taste!
I mean, my mom never finished a drink—didn't matter whether it was coffee or a cocktail. The coffee got cold, the cocktail watered down—she sipped. She tasted. She laughed.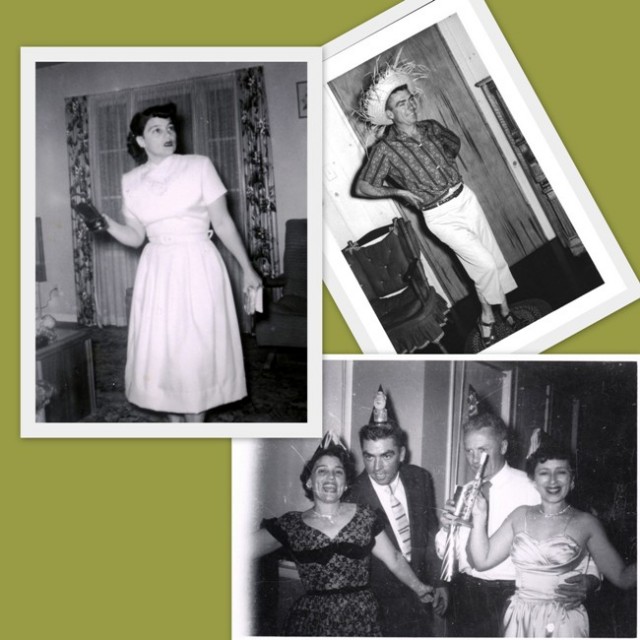 She mixed her wine with coca cola, and her gin with Rose's Lime Juice. She loved Crème de Cacao. She liked her margarita's heavy on the juice, light on the tequila. She very occasionally would sip straight scotch. She was a woman of many sides.
I can remember several times cleaning out the liquor cabinet with her: we would taste ever thing that was in there. Little thimble sized shot glasses of things that had no labels, and those that perhaps were long past their prime. It was fun.
After she and Dad died, my brother Jim and I, along with his wife Karen made a ritual of tasting everything that was left. We used those little thimble sized shot glasses and thought of Mom, and her cocktails.
Last year I joined some friends in making my own bitters. Since Mom & Dad had long collected antique bitters bottles, I used that to inspire what I concocted on my own. I also was inspired to start making my own liqueurs again. A good supply of alcohol was secured and cauldron was put back into use!
Of course, making all these special brews demanded that I start experimenting with different cocktails myself. Happy times ensued.
Recently my good friend Barbara Kiebel from CreativeCulinary.com  asked me to participate in the very special anniversary of her Friday Cocktails event. I was very pleased to accept. You can find a link to her roundup post on Friday Cocktails (over 30 of them!) here. And of course you can find us all drinking cocktails using the hashtag #fridaycocktails on Twitter.
The cocktail below is called the Dahlia, more because my mother loved dahlias than anything else. And it kinda reminded me of one she had that were of the palest orange…
Dahlia Cocktail Recipe
Makes 3 good size " tall" drinks
3 oz tequila *
2 oz spicy orange/tangerine liquor**
2 oz tangerine syrup***
1 oz lemon Juice
4 drops bitters #2****
Club soda to fill
Garnish:
lime wedges & Luxardo cherries
 on a fancy pick
equal parts sugar and kosher salt with a pinch of cardamom
Rub the rim of each 12 oz glass with a lime wedge. Dip the rim in the mixture of sugar, salt and cardamom.
Fill the glasses with broken ice cubes or crushed ice.
In a cocktail shaker, add a few ice cubes, all liquid ingredients, and shake vigorously. Divide equally into the 3 glasses, fill the remainder of each glass with club soda and garnish with lime wedge and a few Luxardo cherries.
Enjoy!
Note: For my party, I had three bottles labeled as 1, 2 & 3 and let people mix their own in 8 oz jelly jars. I mixed the right amount of lemon juice and the bitters into the syrup.
Further notes:
* I like to use any good anejo, but use your favorite tequila.
** Homemade, this was done with oranges & clementine's, cardamom, cinnamon, star anise & black pepper soaked in neutral spirits (like Everclear, but this is not available in all states), then a 50% sugar syrup added. Aged for 9 months. Cointreau can be substituted.
*** Also homemade, this was on the bitter side because I stewed the whole fruit with sugar & a small amount water and then strained. You can also make a simple syrup with some orange juice for this.
**** Homemade, bitters base with added Tangerine, Cloves, Ginger & Coriander. Use your favorite orange bitters