Version 221a, Asia
NEVER EVER turn right when your instincts say turn left…the dotted road syndrome does not live in Sicily alone. ( See http://www.wired2theworld.com/sicily2003part3.html).
This is foreshadowing for the next 8 days.
I left the hotel put securely in a taxi at the Sheraton by Kristina (who is thinking that I will not survive without her) and the hotel taxi guy who personally picks this taxi. Before we go 20 feet he turns and says, you pay me 500 BHT? I laugh and tell him to take me back to the hotel as I am experienced (right!). I know that this trip should be around 200 plus tolls, and I tell him so. She shrugs sheepishly as if to say "can't blame a guy for trying."
As usual BKK was a zoo, and there si a reason for the "get there two hours early". Although I do not have to go thru passport control, it still takes time to clear and once there, Kristina is right: Do not go thru security until you are ready to board—there is nothing there except a bathroom. I talked to 3 Scots who have been traveling for 2 years, going for a last 3 days in Chiang Mai and then home for Christmas…nice guys. A quick email ( using a machine that I swear is gonna eat my cc) and I am off on my own.
The flight is uneventful, except for the Italian kid who spends his time kicking the Brit in front of him and as we land, vomits into his mothers lap. Cute.
Baggage is quick and I am picked up by one of Sgt. Kai's team: Nooy and a driver. They zip me to Baan Orapin. It's lovely and I am impressed by the grounds at my very first glance.
But we have a slight glitch when they show me my room. I had specifically asked for a room in the back, second floor, and this first room was NOT it. There are actually three parts to Baan Orapin now. The front, where they say there is more noise, but the rooms are bigger, The middle ( next to the pool and very small and darkish rooms) and the back, which has bigger rooms and much brighter. After some discussion with Anne, they switch me with a bottom floor room in the back that is quite lovely and I am happy to call home for the next seven days.
It's mid afternoon and I take off for the Walking Market. The distance from the Tae Plae Bridge to the gate is very misleading. (more foreshadowing) It's about a ½ mile, and I spend some time trying to figure out where the damn gate to the old city is.
Behind the wall, silly—set up to celebrate the King's bday, there is a new brick wall in front of the gate. I finally see people walking around it and the light bulb goes off.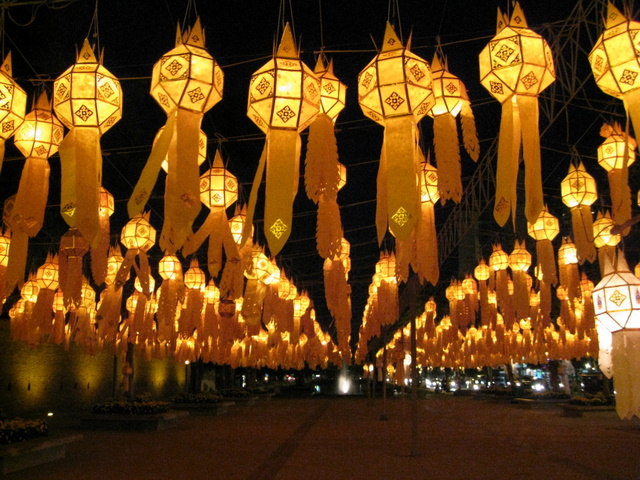 The Walking Market lives up to it's name—surely a mile long, with booths set up randomly along the sides and in the middle, and food in courtyards off to the side—this is some real fun. I walk and walk, and eat and eat. Pennies for yummy food: fresh roasted corn cut from the cob and dressed with butter and sugar (I for-go the sugar but go back for seconds) I look at everything—food that I cannot hope to figure out what it is intrigues me but I settle on some chicken and a nice chat with a lovely Dutch girl who is traveling alone… Ice cream Ancient Style is next and I am full. In between these gastronomic delights I am eye shopping, and walking. I don't think I ever made it to the end of the market, when I decide to turn around and head back.
I noticed right outside the gate, a book store and a dot on the map that said Oasis Spa and I decide to check it out. There is an alley way just behind the Starbucks at the gate that holds a great book store—a girl there says that the spa is just down the alley a bit. I walk. Hmm. No spa. Hmm I walk some more, and consult the map. Looks like I am headed toward the moat that boarders the old city and it seems that when I get to that I can turn right and find my way back tot the foot bridge and the hotel.
Wrong assumption, and an hour later I am asking a police man I see in front of a hospital where is the footbridge. He is from Bangkok and doesn't know the city…just passing time in Chiang Mai.
I must look desolate ( I AM DESOLATE) because a young girl takes pity on me and takes me to 7-11 where she is sure they can help me…they can't, and now I am starting to get concerned because no one seems to know where we are on the map. I refuse to panic, and stand very quietly for few minutes trying to get my bearings. Understand that no one I have met so far speaks any English, but hand signals an smiles are working so I figure I will make it all right. But I will give a BIG THANKS for the flashlight that K left with me. Some of those streets were dark!!
I break down and start looking for a tuk tuk—I know I paid too much but at that point I would have paid more! I find out later that I have walked about 5 miles NORTH of where I should have been, and ended up near the soccer stadium. It will take 4 more days before I finally figure out that the maps I have are worth LESS, and none of the street names remain the dame for more than 2 blocks. Oh well.
After this adventure, I decide that I will just walk down the street for dinner at The Gallery.
Oh, goody: wine, and actually drinkable, one gla
ss please, very cold with some Khao Soi ( what a freaking faux pax: who knew you only eat it at lunch?) …a great meal for 190 BHT.
THEN I discover Cornetto. Don't ask, just know that it's a damn good thing I walked almost 10 miles today.