I live alone.
I say this not for sympathy, but to set the stage.
This is not a food blog, but food is a great deal of my life-so this musing is about that. Food.
Discussion recently is loud and long for feeding your family real food, taking the time to cook, growing your own, etc. I take no exception to any of these, and welcome the company in that point of view.
There is no question in my mind that the best way for every family to eat is to eat closer to the ground. Sometimes that hard, and it can't be done all the time. However, I can tell you from personal experience that just planting one or two vegetable plants can excite any child, and add to the family table. And anyone can do that on a window sill. A whole garden? The neighborhood comes alive.
In my neighborhood, 65 years ago, all the households planted gardens, front and back yards, meridians, everywhere. They shared the harvest. But I digress and that is worthy of a post on its own.
But I live alone, and what I don't see among all the posts and chats is how damn hard it is to cook for one. I love to cook, and am damn good at it. My favorite meals to cook are what is now known as Sunday Dinner, and that can be any night of the week when I can grab an ever-evolving cast of family and family-friends and cook.
When you cook for one, it's pretty hard not to get bored. It hard not to just eat cereal every night. It's hard to think of what you can do differently with ONE chicken breast. Give me dinner for 12 any day. Really. I am a child of the 60's-we invented real food eating AND dollar stretching!
I cook everyday-well, almost everyday because I like to eat. And what tastes better to me are those meals created from fresh ingredients, and the best are the ones are from ingredients I grow myself. But, you got it now, I live alone and for the past 10 years haven't been home enough to maintain a garden. So with some herbal exceptions the big vegetable garden is more than likely a thing of the past. Not sure, but think I will live my vegetable garden fantasies though my daughter.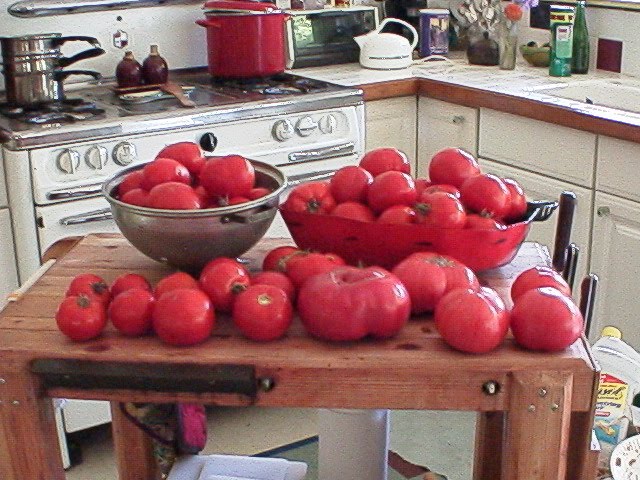 These tomatoes? They are from one day in my garden circa 1997.
Now that I am home again full time I can think about meals and what I can cook with more creativity, and less feed-me-fuel attitude.
This past Sunday when marketing at my favorite independent grocer with my favorite only daughter, I spied the MOST beautiful eggplant. Dark purple, glossy and firm-is there anything prettier?
I was consumed by a craving for eggplant caviar and decided then and there I would make and can a batch. Yes, I can "put up". It's a craft that any food lover should learn. You can have your garden right there in January.
Eggplant caviar has as many recipes as there are people that make it. Thomas Keller makes one, and so do I. And you can too.
This is a snack that doubles as an entreeat the drop of a hat. There is no limit –I think, to what you can do with this versatile food. What follows is my recipe for eggplant caviar, and one of my favorite pasta dishes that I make from it.
Eggplant Caviar
5 firm eggplant
1/2 red onion fine dice
½ red pepper fine dice
½ green pepper fine dice
Garlic to taste (I used about a tablespoon minced)
Olive oil
Salt and pepper
Squeeze or two of lemon juice
Placed eggplant on a foil covered cookie sheet and poke several time with a fork. Roast at 400 degrees until they collapse. Remove and cool. When cool, take a sharp knife and split the eggplant as you would a baked potato. Scoop the inside into a bowl. Take a sharp knife and run it thru the soft eggplant to "chop" it coarsely. Set aside.
Take the oil and juice that has come from the roasted eggplant and put into skillet with about 2 Tb of olive oil, heat to medium.
Prepare the remainder of the veggies. I use the food processor and just pulse a few times. Put the processed veggies in the heated pan and sauté for about a minute. Throw in the garlic and sautéfor another minute.
Combine the eggplant with the sautéd veggies and salt and pepper to taste. Add a squeeze of lemon juice to brighten if need. You can refrigerate for up to a week in a sealed container—if it lasts that long! Or you can process in small jars. Follow normal canning instructions.
Shells and Caviar
1cup cooked small shells
½ cup eggplant caviar
Fresh grated Parmesan
Salt and pepper
Cook the pasta and drain. Add the eggplant caviar and toss, add cheese and season to taste. Eat.
Yum.
If you make some Eggplant Caviar, let me know your favorite way to use it.